Posted 26/02/2020
DC-Power Supply (AC-DC Power Supply)
Examples of Improved Measurement and Evaluation by Using a Low-noise DC Power Supply
Video:
SNR Improvement of Photodiode by Using Low-noise DC Voltage Source.
1. Improvement of S/N Ratio of Photodiode Output
Devices such as low noise and high sensitivity amplifiers and sensors are used in the applications that require small signal measurements and high precision signal detections. However, good performance by these devices alone will not provide the best results. This is because the device performance may be affected by the quality of the power supply.
A general photodiode is used by applying a reverse bias voltage (Vb). The noise of Vb greatly affects the signal output, so it must be supplied using a low-noise power supply.
Measuring how much the noise of bias voltage source affects the output with the measurement system is shown in Figure 1.

---
When using a general linear regulator type power supply, the detected signal is buried in noise and is difficult to observe. On the other hand, the signal can be clearly observed by using our low-noise DC power supply "LP5394" (Figure 2, left). Thus, even with same device, the quality of the power supply can make a significant difference to the output signal. Therefore, it is necessary to pay attention to power supply qualities when measuring small signals.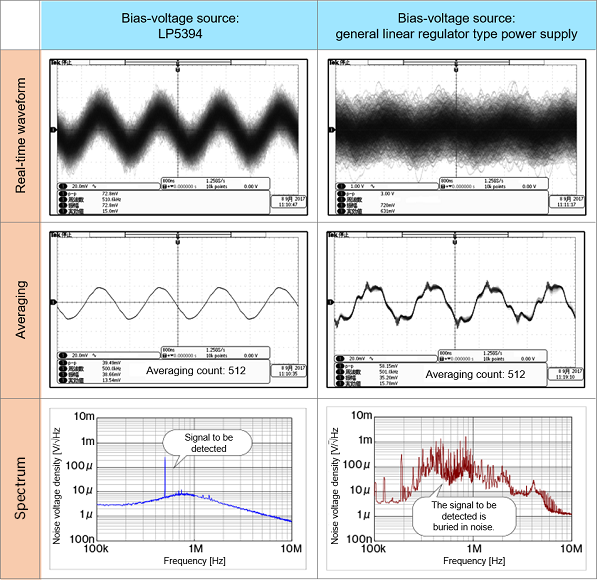 Related keywords : Low Noise DC Voltage Source