| | |
| --- | --- |
| Programmable AC Power Source | DP series |



DP series designed not only for performance and functionality, but ease-of-use as well


Using our user interface designed to have a wealth of functions without too much complexity, operation is simple and smooth.


Operation panel
Enables everything from basic setting to sequence setting
5.7-inch LCD
Voltage, frequency and other values can be called up to the screen with a single key
Quick and sure setting of numeric values using the keypad, arrow key and jog dial.
Angles can be set to 2 levels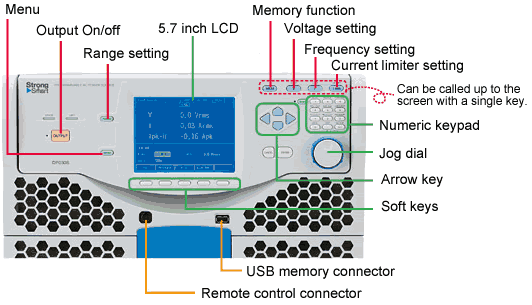 Remote controller

(Option)
Performs the same operation as the operation panel on the main unit
Cable length: approx. 3.5m


USB memory
Data can be written into and read from memory without connecting a PC. This is convenient when sharing basic parameter settings among multiple units, or when reading data created with control software.
Interfaces and external control I/O support system integration and automation.


Interfaces:
RS-232, USB, GPIB

*

,LAN

*


* LabVIEW driver comes standard


External control I/O
Enables control from a PLC etc.
Control input: output on/off, sequence control, memory recall (basic setting memory, sequence, simulation)
Status output: power input on/off, output on/off, protection operation, limiter operation, output range, step synchronization of sequence and simulation, etc.
*

Specified when ordered


Power input (Specified when ordered)
Single phase : 100V to 230V
3-phase/3-wire : 200V to 220V
3-phase/4-wire : 380V
*

1.5kVA and 3kVA models are single phase only.

*

More than 16kVA model is 3-phase/3-wire or 3-phase/4-wire.

*

The single phase of DP060LM, DP120 LM is 200V system (200V to 230V)


Power output
Two AC outlets (NEMA 5-15: for Japan/North America) are provided at the bottom of the front panel of the single-phase model.
CEE7 (for Europe) can also be available when ordering.